You're invited you to our 14th Annual Celebration of Ministry Dessert on Thursday, April 12.  RSVP today and plan to be there.  It will be a special evening celebrating all that God has done through Great Awakenings over the last year.
THANK YOU TO OUR SPONSORS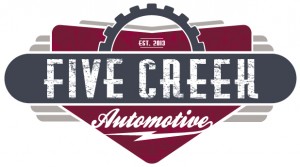 Java Junkies
Brad & Lisa Dieckmann      Clay County National Bank
  Patterson Health Mart Pharmacy      Tasty Pastry Bakery & Coffee Shop
Scroll down to fill out the RSVP registration form. 
Bubba and Heather Dowling will be joining us as guest speakers.  They have been married for 20 years, have six children and live in the rural Kansas town of Alton.  Kathe and I have known them for many years.  As a member of YWAM's Xtreme Team, Bubba has partnered with us in citywide ministry.  Through YWAM he used his size and strength to lead people to Jesus.  Together, Bubba and his wife have a compelling story before he ever became a strongman for Christ.  They were both raised in abusive homes and are going to be sharing how God met and changed them in the midst of brokenness.  Their story has been featured on nationwide TV through the Christian Broadcasting Network.  Learn more about Bubba by going to his website.
The Dowling's message is a perfect complement to Clint Decker's 2018 State of The Ministry Address.  In it Clint will be sharing all that God's done over the last year including discussing his upcoming trip to Kenya.  This night is being prayed over and prepared to be an inspiration to all who come.  Acts 14:27 says, ". . . when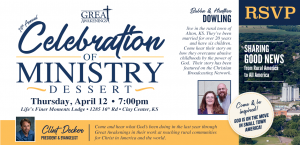 they arrived and gathered the church together, they declared all that God had done with them . . ."  Come and be amazed at the things God has done!
We'll also have coffee, various snacks and desserts to satisfy that evening appetite, and provide an opportunity to support the work of Great Awakenings.
Once again, it's being held at Life's Finer Moments, an event lodge in the Clay Center area.  It's country setting has breath-taking views and a relaxed atmosphere.
This is free and open to the public.  If you plan to attend, think about bringing someone along who isn't familiar with our ministry.  We'd love to introduce someone new to our work.
Thursday, April 12, 7:00 p.m.
Life's Finer Moment's Lodge; 1285 16th Rd.; Clay Center, KS
Reserve your spot below . . .