Schedule a Rural and Small Church Ministry Tour event at your church
OUR HISTORY OF RURAL MINISTRY
Clint Decker's father, Paul Decker, passed away in November 2017.  He had been a pastor in the Church of the Nazarene for over 30 years.  Most of that time was spent pastoring small churches in rural towns like Beulah, North Dakota and Wheatland, Wyoming.  When Clint was called into the ministry, it started with a pastorate in Osawatomie, Kansas.  The church had less than 30 people and the town less than 5,000.  From there, Clint took an Assistant Pastor/Youth Pastor position in Clay Center, Kansas.  The church was less than 150 in attendance and the town also under 5,000.  In 2004, God lead Clint to start into full-time evangelism beginning the ministry of Great Awakenings.  Our office is located in Clay Center.  From the beginning we have been a rural ministry, serving rural areas domestically and internationally.
THE BEGINNING OF THE RURAL AND SMALL CHURCH MINISTRY TOUR 
In 2015, God led us to begin reaching out to a group of churches to be an encouragement to the pastors, congregations and share what God was doing through our ministry.  In the last year, God showed us something more.  He opened our eyes to see a common element all these churches had.
The majority have an attendance under 50, ranging from 15 to 150.
The majority of pastors are bi-vocational
The majority of churches are located in towns with a population under 3,000, ranging from 500 to 41,000.
Through this understanding, He led us rename our annual program, calling it the "Rural and Small Church Ministry Tour."  Its singular purpose is to come alongside the pastors and congregations of these churches to encourage and strengthen them.
JESUS LOVES HIS CHURCH, NO MATTER THE SIZE OR LOCATION
The Apostle Paul wrote about Jesus' view of the church saying "Christ loved the church and gave himself up for her . . ." (Eph. 5:25).  Notice, there is no mention of church size or location.  He loved and gave Himself up for His church, period.  He loves His church that sits in a rural town, one hour away from nearest shopping mall.  He loves His church of 20 people that sits tucked away in a small town neighborhood.
One Pastor told Clint, "I don't feel like our church gets the attention the larger ones do."  By no means is he alone.  We have heard this sentiment in various forms many times.  Clint used to be a pastor of a small church under 30, and his father pastored these size churches during much of his pastoral career.  Your church attendance, building location, town population, budget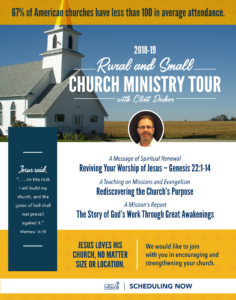 size, small or no paid staff does not make a difference.   God can use a congregation of 15 people with a Pastor and church leadership team sold out to Jesus, to change the world.
HOW WE CAN COME ALONGSIDE 
We love the rural and small churches and would be honored to serve.  Our program provides four areas of encouragement and strengthening
A Sunday morning message of spiritual renewal to believers in Christ.  This would include an opportunity for people to respond to God's work in their hearts.
An in-depth teaching on missions and evangelism.  This would include handouts, along with questions to engage people.
A mission's report to share the story of God's work through Great Awakenings.
Opportunities for encouragement through listening to and praying for the pastor, church leaders and others in the congregation.  Encouragement is a big focus of the program and not meant to serve as pulpit supply.  Rather, we desire the pastor to be present, in order to be encouraged personally and through the entire program.
PROGRAM FLEXIBILITY
Because many churches vary with their Sunday and weekend schedules, including pastors with multiple churches they lead, our programming elements are flexible to fit whatever works best for you.
Option 1
Sunday morning service: Morning message on spiritual renewal.
Saturday evening:  10 minute ministry report and teaching on mission and evangelism.  It would be an hour and half program.  If you have multiple churches, they could agree to join together at one location for this.  Additionally, if you wanted to involve other churches in your community, this would be a great opportunity for that.
Option 2
Sunday morning service: 10 minute ministry report early in service order and message on spiritual renewal.
Sunday school:  Teaching on mission and evangelism.
NO OBSTACLES
If you have an interest in having us come, we want to do all we can to reduce any obstacles.
Location is not an obstacle. If your church is part of the United States, no problem.  We have primarily focused on the Great Plains because that is where we live, but if your church is outside of that area of the country, we would love to come!  We are willing to fly or drive anywhere, from North Dakota to Texas or California to New York.
Church size is not an obstacle. No matter how small you think you are, we would love to come.  Do not let your attendance be a factor.
Money is not an obstacle. We do not have any set fees or honorariums we ask for.  If your church requires some distance to either drive or fly, we request enough funds to cover food, transportation and lodging.  And if a church is able to provide something like a love offering, that would be considered a blessing.  However, in cases where a church would like the program, but they are unable to cover the minimum, please contact us.  We want to work with you to do whatever we can to provide you this program.
GETTING TO KNOW CLINT
We encourage Pastors and churches to ask questions about the guest speakers they invite.  If you would like to know more about Clint's beliefs, preaching style or anything else, please contact us.
CHURCHES WE HAVE MINISTERED IN
Alert Covenant Church – Leonardville, KS
Madura Church – Wakefield, KS
Wakefield Baptist Fellowship Church – Wakefield, KS
Faith Connection Covenant Church – Washington, KS
Alma Free Methodist Church – Alma, NE
Oakley Wesleyan Church – Oakley, KS
Hutchinson Wesleyan Church – Hutchinson, KS
Osawatomie Wesleyan Church – Osawatomie, KS
First Presbyterian Church – Clay Center, KS
Idana Presbyterian Church – Idana, KS
Nashua Congregational Church – Nashua, IA
Fill out the form below if you're interested in learning more.  We are scheduling for 2018 and 2019, starting in October.