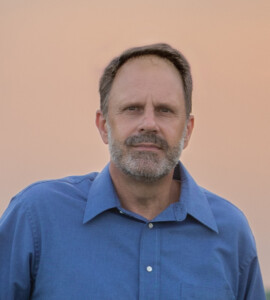 Born in Poughkeepsie, New York, Clint Decker was raised in a pastor's home and is the youngest of four children. At age 20, he gave his life to Jesus. Soon after, he felt called by God to preach the gospel then began his ministerial studies at MidAmerica Nazarene University in Olathe, Kansas.  He completed his work for ordination through The Wesleyan Church.
During Clint's ministry career he has served as pastor of Osawatomie Wesleyan Church (Osawatomie, Kansas), Assistant Pastor/Youth Pastor of Clay Center Wesleyan Church (Clay Center, Kansas) Director of Detour Youth Center (Clay Center, Kansas), then in 2004 launched his own evangelistic ministry, Great Awakenings, Inc. Currently, he serves as President, Evangelist and Chairman of the Board.
Since 1991, Clint has shared his message of good news with two million people through preaching, television, radio, writing, counseling and the Internet.
Clint's greatest passion is to see rural communities transformed for Christ. He says, "In every rural area I go I dream of everyone having a chance to hear the gospel, experience the forgiveness of Christ and become holy, obedient followers of Him."
Clint makes his home in Clay Center, Kansas, with his wife, Kathe.  He is a simple communicator of the gospel and has spoken before a variety of audiences in various settings.  He has preached before ages ranging from children to senior citizens, in churches and at prisons, from the streets of New York City to the statehouse of Kansas.  He agrees with Paul in saying, "Indeed, I count everything as loss because of the surpassing worth of knowing Christ Jesus my Lord . . . and count them as rubbish, in order that I may gain Christ and be found in him . . ." (Phillipians 3:8, ESV).