Friend,
Merry Christmas!  As we come to the end of 2018, I have just walked through one of my most unique ministry experiences.  Since God called me to preach in 1990, many times I have prayed for the sick.  Marvin's story is unlike any other though.  The family has given me permission to share.  I think you will be encouraged by it.
MARVIN REVELL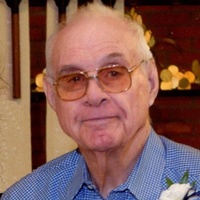 Marvin Revell died on November 21 at age 83, but his story began on September 30.  On that I day I received an urgent call to come to the hospital.  Marvin's son, Dean, told me "They found internal bleeding and can't get it stopped.  There's nothing they can do.  We don't know how long he has."  Dean is the Father-in-Law of our granddaughter, Jessica.
When I arrived, I visited with the family learning more about Marvin's condition.  All his family had been contacted and people were planning to get there as soon as they could to see him before he died.
I sat next to Marvin as he lay on his hospital bed.  His skin had lost natural color and was as white as could be.  His finger nails were yellow.  His face was gaunt looking as he had experienced much weight loss.  He was unresponsive.  His eyes were closed, and his head would occasionally shift back and forth like he was uncomfortable or just restless.  Even so, I began to talk with him.  Up to that point, I had only met him once before.  "Hi Marvin.  I'm Clint Decker a minister in Clay Center.  I've been told you've been going to church since you were a boy.  That's great to hear, but in a little while you might be entering eternity, and I want to be sure you are prepared to go."  In my time with him I read from Psalm 23, Psalm 46, John 11, explained the gospel, then prayed for him, praying for his healing and for him to turn to Jesus with all his heart.
After I finished praying, he opened his eyes and began engaging with me and others in the room.  He continued to do this, then eventually started eating, sat upright in bed, was discharged from the hospital back to the nursing home, his internal bleeding completely stopped and before long, he was walking around with the help of his walker.  His family called it a miracle and told and re-told the story of Marvin's healing.
Over the next eight weeks I visited Marvin staying in touch with him and his family.  Then on Wednesday, November 21, the day before Thanksgiving, I received another urgent call.  "He hasn't eaten in three days," Dean said, "He's in extreme pain, but they are managing it with medication.  Hospice says it could be hours."  My wife and I headed to the nursing home, walked into Marvin's room and visited with, Doma, his wife of 56 years and other family members.  When I sat next to Marvin, the scene looked like eight weeks earlier, this time though I could sense things would turn out differently.  Once again, he lay unresponsive while I talked to him about spiritual things and read Scripture.  I read out of 1 Corinthians 15,
Behold! I tell you a mystery. We shall not all sleep, but we shall all be changed, in a moment, in the twinkling of an eye, at the last trumpet. For the trumpet will sound, and the dead will be raised imperishable, and we shall be changed . . . 'Death is swallowed up in victory.  O death, where is your victory?  O death, where is your sting?'  The sting of death is sin, and the power of sin is the law. But thanks be to God, who gives us the victory through our Lord Jesus Christ.  (1 Cor. 15:51,54-56)
Then I stood, put my hand on his forehead and began to pray.  I prayed the gospel of Christ over him and that he would entrust himself into the care of Jesus.  "Lord God help Marvin to release himself to you.  To end the struggle.  To rest in you."  When I finished, he was completely still.  His daughter-in-law, Kara, stated, "It's a miracle!"  His son, James, looked down at his watch and said, "4:15."  November 21, 4:15 p.m. Marvin Revell saw Jesus face to face.  Praise be to God!
RURAL IS OUR MISSION FIELD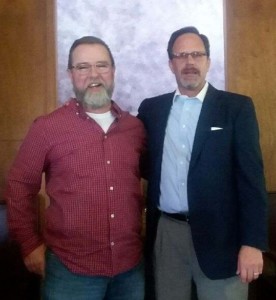 Our Rural and Small Church Ministry Tour that has been going on since October.  Church after church has been a blessing.  Pastor Dirk Westerman, of Milford Congregational Church, commented "I can tell you, in the first month following Clint's visit it has changed who I am."  And on the Hope for Today newspaper column front, the editor of Metro Voice News printed my December column on their front page.
My column is run mostly in rural town newspapers.  The churches where I am ministering are in rural communities.  Marvin was a farmer that lived in rural Kansas.  And I am looking forward to another rural international mission trip in 2019 that is yet to be decided.  Can you see the theme?  Rural.
Did you grow up in a rural area or do you live in a rural town now?  There is great spiritual need in these important communities just like in our large cities.  As a fellow believer in Christ, can you prayerfully consider joining arms with us financially to go into these rural mission fields in 2019?  Pray about a year-end donation of $500, $100, $50 or $25.  Click on the donate button at the top of the page. 
All the praise and thanks be given to God for what He has done.  Kathe and I, along with our board of directors, wish you a Merry Christmas and Happy New Year,
Clint Decker
President and Evangelist
Great Awakenings, Inc