Dear Friend,
This letter represents the close of celebrating 15 years of ministry at Great Awakenings.  And this year has been the most laser focused we have been on our mission.  God has called us to proclaim Christ in rural communities and we have never done that more than in 2019.
During the summer we completed the long process of redoing our logo and slogan to better represent our rural mission.  And we have a four-fold strategy which I share often.  We carry out God's calling through rural international, rural churches, rural newspapers and rural people engagement.
Every gift you have given this year and prayer of intercession you have offered on our behalf, has gone to help carry the gospel in these ways.
Rural International.  We hoped to end 2019 with a ministry trip to East Africa, but God had other plans.  Due to funding issues the trip to Kenya has been postponed to April 17-28.  Pastor George Murguro (Principle of Manna Bible Institute, pictured right) and I discussed the financial shortfalls, and decided it would be best to postpone it, which would allow more time to raise the additional funds.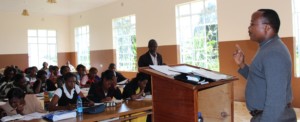 Though we are disappointed, we are trusting in God's plans, not our own.  For it is written, "Trust in the Lord with all your heart, and do not lean on your own understanding . . ." (Prov. 3:5). 
Funds have been raised to purchase an airline ticket, which we did in November.  We are hoping to raise the additional $4,000 by December 31, which includes a $1,000 donation to the Manna Bible Institute where I will be teaching rural African evangelists, and $3,000 toward evangelistic outreaches that could reach upwards of 5,000 people.     
Rural Churches.  This year we finished up our first season of the Rural and Small Church Ministry Tour.  It covered churches in Kansas, Nebraska, Iowa and Arkansas.  The weekend program was met with great response.  Pastor Dick Kelsey, who leads Rocky Branch Baptist church in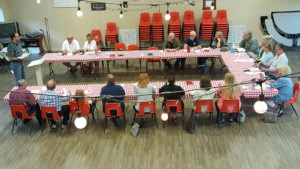 Rogers, Arkansas, commented, "Clint's messages had great impact on our folks. We are a small and growing rural church where his focus on staying true to the work and reaching out to our community struck home with our people."  It was a wonderful blessing to come alongside these rural churches and encourage them in their vital ministry in small town America.  For our second season in 2020, we have renamed the program, Igniting the Rural Church.  (Pictured-Clint teaching at Rocky Branch)
God opened up a second door of outreach into rural churches this year.  I became part of a longstanding pulpit supply program with the Manhattan Christian College.  Every month they have been sending me to churches in Kansas and Nebraska.  It has fueled God's call for me to preach His Word, and given tremendous insight into the troubling state of America's rural churches.
Rural Newspapers.  Before I started this letter, I was praying over my December column that was released to newspapers.  I stood in amazement at how God has used my Hope for Today column since 2006, in many small-town papers across the central U.S.  Sometimes I write on controversial subjects and put a personal note to editors about its sensitivity.  The Walsh County Record in North Dakota emailed me earlier this year saying, "Although I don't always agree with Clint's point of view, particularly the recent column about homosexuality, I appreciated the note at the top of the column with the choice not to publish it. Ultimately, I printed the column because it was just one person's point of view.  And although it wasn't my own, I appreciate him writing on tough topics."
Tonia Hedman, our Administrative Assistant, finished up calling all the newspapers in Texas, now onto Louisiana's Cajun country in 2020.
Rural People Engagement.  This year God provided wide ranging ministry opportunities to engage with people.  The most heart breaking was a chance to speak at our local high school's baccalaureate service one week after a student committed suicide.  I praise God for the power of His preached Word and the difference it made.  In another situation, I learned about Jamie, who had been diagnosed with an aggressive form of cancer.  God opened a door to kneel at his bedside while he was in terrible pain and I shared the gospel. Within two weeks he had died.  And not too far away from our office was an apartment where we often heard yelling, slamming doors, and police cars.  I intervened once and was visiting with Wendell about the ongoing problems and learned about a bloody fight between him and a neighbor.  Through that God opened up a door to talk about Jesus and pray for him.
It truly has been a wonderful year filled with many works of God, and none of it was done alone, but with the help of many.  My wife and I, along with our board of directors, give God great praise and thanks for 2019 and look forward to 2020.
Together for the gospel,
Clint Decker
President and Evangelist
Great Awakenings, Inc