From Tuesday, April 16 to Friday, April 19 Great Awakening is conducting a Disaster Relief Emergency Gift Card Drive.  Dollar General and Visa/Mastercard Gift Cards (or cash gifts toward those) are being collected for survivors of the recent Nebraska flooding and the Paradise, California, wildfire during the fall.
Why are we doing this?  To be the hands and feet of Jesus in a practical way to those in great need.  Then through our kindness fellow believers can be encouraged and the lost can turn to Jesus and be saved.  The need is huge, and this is one small thing we can do together.
God says in the book of Proverbs, "Do not withhold good from those to whom it is due, when it is in your power to do it" (Prov. 3:27)  Fellow believer in Christ, do you have the ability to help with this?  If so, then let us not withhold our ability to do good.
Nebraska
The flooding in Nebraska was part of the larger flood disaster that effected several states in March known as the bomb cyclone.  We have established a relationship with Gretna Baptist Church in Gretna, Nebraska.  They are located near some of the hardest hit areas and have been helping people in incredible ways.  Shortly after the flood they packed four semi-trailers full of supplies and sent them out.
California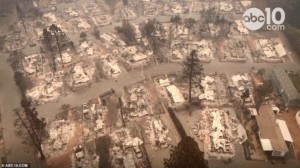 The Camp Fire wild fire was one of the deadliest fires in American history including wiping out nearly the entire down of Paradise, California, in November.  We have established a relationship with Bayside Church, in Roseville, California, that is just over an hour away from Paradise and helping survivors.
People have lost their homes, businesses and in some cases, even their churches.  The pastors said gift cards are a practical help.  Following both disasters survivors are living in motels, hotels, in RVs or with friends or family while they clean up and rebuild their homes and lives from the floods and fires.  The gift cards allow them to purchase groceries, undergarments, bedding, toiletries, cleaning supplies or other necessities.  The churches said they will personally deliver the cards to those who need them most. 
How you can help
1.Provide $50 or $100 Dollar General Gift Cards or Visa/Mastercards
Dollar General stores are a staple business in rural communities and both churches said there are several stores in the area where survivors can use them.  We were also told there is a Dollar General still standing in Paradise.
2.Provide cash gifts of any size that can go towards the purchase of gift cards.  Note that 90% of every gift sent in will go towards disaster relief, 10% will be used toward administrating the relief effort.
Gift cards will be driven directly to Nebraska by Clint Decker, while gift cards for California will be mailed to Bayside Church.
How you can give 
Come directly to our office at 107 S. 7th St, Clay Center, Kansas.  Someone should be there from 8:30am – 6:00pm, Tuesday – Friday.
Give online right here at this website.
Mail in a donation to our office.
It seems every week we hear about a new disaster somewhere.  We want to provide one practical way you can help in two devastating natural disasters that have already left the nightly news headlines because other disasters have taken their place.