Dear Friend,
Greetings in Christ!  Merry Christmas and Happy New Year!  In this season of joy, my heart is heavy for our nation.  As I write, the Presidential race is still being contested.  Daily it seems more evidence of voter fraud is coming forward.  It is shocking and overwhelming what has happened, and it is dividing our nation with no good solutions in sight.  The Covid-19 restrictions are dividing people too.  Churches banned from meeting in some states, small business owners being forced to shut down and people turning to the courts to sue government leaders.  I have prayed, "God, what are you speaking through all this?"  In a recent message I addressed this by stating, "We.  Need.  God!"  Often in the Scriptures, God allows crises to come and humble people, to smash their pride, reveal their sin, so they might see the Lord God high and lifted up, then call upon Him in repentance and faith.  In First Peter it says, "For the eyes of the Lord are on the righteous, and his ears are open to their prayer.  But the face of the Lord is against those who do evil" (1 Pet. 3:12).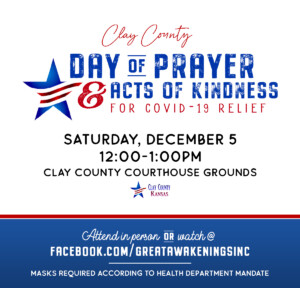 This was the foundation of a recent Covid-19 outreach.  Critical numbers were increasing in our county that prompted healthcare leaders to call for our first mask mandate on November 11.  At the same time our healthcare workers were being overrun and discouraged in their fight against Covid.  In response, I felt God leading me to call believers in our county to come and pray and fast for God's intervention.  We gathered to pray over the phone and God's Spirit was clearly felt.  Afterward, I sensed Him leading me to present a proclamation for a countywide day of prayer to one of our county commissioners, which led to a presentation before our board of county commissioners on November 23, who unanimously voted to support it.
Here is one portion of the proclamation . . .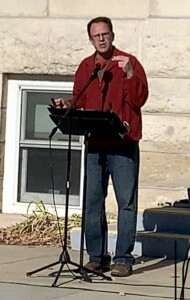 "WHEREAS, the Clay County Day of Prayer for Covid-19 Relief, is the calling for the people of Clay County, Kansas, to turn to the Lord God for His healing amid the coronavirus pandemic;
Clay County Day of Prayer and Acts of Kindness for Covid-19 Relief was held December 5 on the courthouse grounds.  Pastors led the group in prayer over various prayer points.  People attended in person, listened from their cars, watched on Facebook or listened over their phone.  We also used the day to demonstrate our love for Christ not just in word, but through deed.  People donated hundreds of dollars to help people struggling financially due to Covid related issues.  Believers also wrote and signed cards of encouragement for healthcare workers, nursing home residents and provided gifts and other items too.
Jerry Mayo, a local business owner and Clay County Commissioner said,
"I know God has a plan for us in all this pandemic. I'm excited to see what it is.  Today was one of the most positive events I've seen occur this year.  Even over Facebook you could feel the Lord's presence in the event. I know the Lord was smiling on Clay County, Kansas."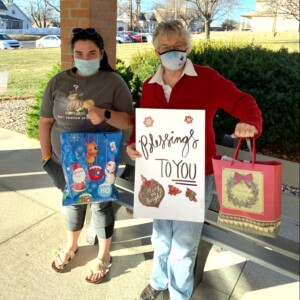 Dr. John Kelley, our local hospital's Chief Medical Officer commented,
"Unified prayer for the many people affected by the Covid pandemic was powerful and meaningful. Prayer works! It reminds us that we have a God who cares about our every need and is powerful enough to act on our behalf.  As a physician I am extremely grateful to have a community that is praying. I can verify that since people have been praying, we have seen a decline in the number of positive Covid test results and hospitalizations in our county."  
Praise God for all He has done.  Covid is not going anywhere soon and the fight will continue day after day as we remain on our knees.  (My wife, Kathe, and granddaughter, Lynzee, taking items to the Presbyterian Manor)
As Great Awakenings moves into 2021, we remain focused on God's mission for us to proclaim the gospel in rural communities.  His Word is powerful and effective in big cities and small towns.  We do not know what the future will be like, but we know who does.  And we know that people all around us desperately need to hear from God in this critical hour.
All praise and thanks be to God for what He has done.  Kathe and I, along with our board of directors, wish you a Merry Christmas and Happy New Year.
Living for Christ this Holiday Season,
Clint Decker
President
Great Awakenings, Inc
P.S.  Would you consider making an end of year donation to join us in our work at proclaiming Christ in rural communities for 2021?  Pray and seek the Lord God if He will have you give a potential donation of $500, $100, $50 or $25.  Click here to make a year end donation.