Great Awakenings Fall Newsletter
In the spring of 1997 I was pastoring the Osawatomie Wesleyan Church in Osawatomie, Kansas, just 30 minutes outside the suburbs of Kansas City. One day I received a call from Pastor Dave Redmond.  He was a friend and prayerfully contacted me to ask if I would be interested in coming on his staff to be the Assistant and Youth Pastor at the church he led.  We set a time when I would come and interview with the church leadership and see the town.  When the day came, I climbed in my little red Toyota Corolla and headed west.
As I drove along I-70 I saw exit 313 to Manhattan, so I turned off and drove north a few miles on Highway 177 until I reached the city.  It was a beautiful town, but I was just passing through on my way to Clay Center.  I continued north out of Manhattan driving on Highway 24.  As the miles passed I started to become concerned.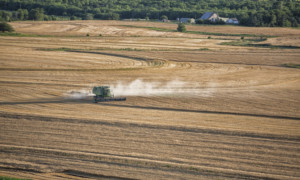 All I could see were sprawling fields of crop land and pastures for cattle, that sat underneath wide-open skies.  I also saw old farm houses and new homes that dotted the landscape.  In nearly 30 minutes I passed through only one tiny town that did not even have a stop light.  As I drove on I remember saying to myself, "Where is this place?  It's out in the middle of nowhere."  Soon, in the distance I saw something that looked like a water tower.  I thought, "Ah, the sign of a town!"  As a drove closer I saw "Clay Center" emblazoned on it.  (Photo courtesy of Phil Frigon.) 
 HISTORY OF RURAL MINISTRY
That trip in 1997 was an unexpected lesson on rural ministry.  However, it was not until this year, 21 years later, that God gave me insight like I never had before about my calling into rural ministry.
I think of my father, Paul Decker.  He passed away nearly a year ago.  He had been a pastor in the Church of the Nazarene for over 30 years.  Most of that time was spent shepherding small churches in rural towns like Beulah, North Dakota and Wheatland, Wyoming.  When I was called into the ministry, it started with Osawatomie.  The church had less than 30 people and the town less than 5,000.
I did not put it together until recently that my dad had been in rural ministry for much of his 30 years and I have been engaged in it for almost 25 years.  Today I embrace rural ministry whole heartedly.  I love the culture, land and people of rural America.  In missiological terms, they are my people group, my tribe God has appointed me to go and lay down my life for.
A MINISTRY OF ENCOURAGEMENT TO RURAL AND SMALL CHURCHES
All this history of rural ministry laid the ground work for a new outreach initiative.  Early this year I began praying over a small group of churches I had been ministering to over the last several years.  As I prayed, God began to speak.  He showed me what many of these pastors and churches have in common.  The majority have an attendance under 50, ranging from 15 to 150.  The majority are located in towns with a population under 3,000.  The majority of pastors are bi-vocational.
I began to ask the Lord, "How do you want me to minister to them?"  Thoughts of Paul and Barnabas in the book of Acts came to mind.  Souls had been won to Christ and churches established.  Then the two travelled back to the newly planted churches for the purpose of ". . . strengthening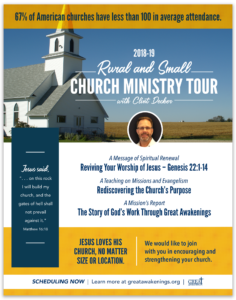 the souls of the disciples, encouraging them to continue in the faith . . ." (Acts 14:22).  I felt the Holy Spirit was telling me to do the same thing, to strengthen and encourage these pastors and churches.
Our Rural and Small Church Ministry Tour brings encouragement in four ways.
A Sunday morning message of spiritual renewal and refreshment for believers in Christ. It includes an opportunity for people to respond to God's work in their hearts.
An in-depth teaching on mission and evangelism. It is so easy to"mission drift."  This teaching is a timely reminder of our ongoing and unchanging mission as a body of Christ.
A brief mission's report to share the story of God's work through Great Awakenings.
Opportunities for encouragement through listening to and praying for the pastor, church leaders and others in the congregation.
Paul and Barnabas were model evangelists and they saw the value of coming alongside established churches to be a spiritual encouragement.  They saw that when the church is strengthened and encouraged it leads towards spiritual health and the expansion of Christ's Kingdom.
During August and September, we have been rolling out the Rural and Small Church Ministry Tour, and I have been talking with pastors across Kansas and in several states.  God has provided several churches that have scheduled for this fall and spring.  As I speak with pastor after pastor I emphasize over and over the theme of encouragement.
THE IMPORTANCE OF RURAL AND SMALL CHURCHES 
Through all this, God has been opening my eyes to see the incredible value of rural and small churches.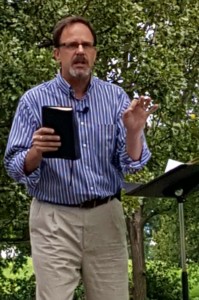 Wakefield, KS:  I had the opportunity to preach at a communitywide outdoor service in the city of Wakefield.  There are three churches in town and three in the country.  None of them average over 100 in attendance.  Yet, they joined together for a spiritually powerful community service.  Not only that, but they took up a large offering to bless a local pastor whose father-in-law suddenly passed away.
Keats, KS:  Following a devastating flood, I visited a nearby town to see how I could help.  What I found was the important presence of the rural and small Keats United Methodist Church.  Their church volunteered to be a designated shelter for the town residents.  They provided food for people working on their homes and drove around to visit with folks to see if they needed anything.  This small church was doing what it could to be the presence of Jesus in a time of disaster.
Rogers, AR:  After doing some morning Bible teaching for a conference, I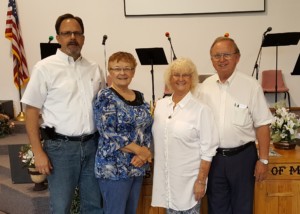 attended the Sunday services of Rocky Branch Baptist Church, located in a rural area outside Rogers, Arkansas.  It is being pastored by one of our former board members, Dick Kelsey.  It is a small church of less than 100 and they had a wonderful day of ministry.  A little boy had been led to faith in Christ by his father and was baptized.  And following the sermon, a man walked to the front of the sanctuary to yield his life to Jesus.  Praise God for the work of this rural church that is seeing lives changed for eternity.  (Kathe and I pictured with Pastor Dick and Doris Kelsey)
Leonardville, KS:  Pastor Dwight Diller is a good friend and leads the Alert Covenant Church.  They are a congregation of less than 150 and are located on a county road surrounded by farm and pasture land.  Yet, they have a heart for the nations.  Every summer for several years they have had a team of people travel to Mexico.  They partner with a local church in Mexico and through the partnership that Latin American church is being strengthened and lives eternally changed.  Imagine, a rural and small church making a worldwide impact.
THE RURAL VISION OF GREAT AWAKENING
Great Awakenings has a calling from God to go to the rural areas.  We are doing that in four ways.  1)  Through rural newspapers, across the Central United States, publishing my Hope for Today newspaper column.  2)  Through rural personal evangelism, engaging with people one on one proclaiming the good news of Christ.  3)  Through international work, equipping rural church leaders and proclaiming the gospel.  4)  Through the Rural and Small Church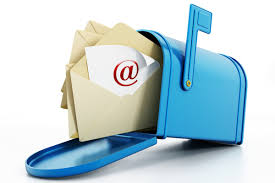 Ministry Tour.
THE MAIL BAG
As I bring this to a close, let me share an email we received from a newspaper that runs my column.
"Thanks so much.  [We] got the column for September and think it will go in this week.  [We receive] a lot of good comments on [Clint's] columns."From the Dickey County Leader newspaper out of Ellendale, North Dakota.
If you have any comments to offer, please let me know and I might share it in the next newsletter.
Slave of Christ,
Clint Decker
President & Evangelist