Great Awakenings Summer Newsletter
We have three pieces of breaking news to share right at the beginning.  First, this newsletter is the rollout of our new logo and slogan.  Since 2019 is our 15th year of ministry, we thought it would be a perfect time for a change.  We wanted to better reflect our rural and gospel message focus.  The rows and hill communicate rural while the cross symbolizes our message, and the slogan says it all with a simple and memorable statement.  Please let us know your feedback on the change.  It was produced by our long-time graphic designer, Mikhaela Craig (mjstudio360.com).
KENYA CONFIRMED!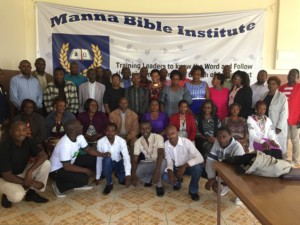 The second piece of breaking news is the confirmation of our 2019 international rural mission's trip.  I will be heading back to Africa and the nation of Kenya, where I was in 2018.  George Muguro, Principle of the Manna Bible Institute (MBI) and School of Missions, invited me to come and be a guest teacher for their Evangelism Class, December 2-13.  The school is located just outside Nairobi.  (Pictured: Previous Evangelism Class)
The students are already doing evangelistic work.  They come wanting to know more of Jesus and how to better serve Him in their calling.  They are hungry to learn!  Students will come from rural and remote areas in Kenya and other surrounding African nations.
I will be teaching one half of the day, while MBI staff teach the other.  Then we will combine the classroom work with evangelism practicums.  They will provide students the opportunity to apply what they will be learning.  Jesus said, "Go therefore and make disciples of all nations . . ."  (Matt. 28:19).  Disciples refers to learners.  Learners of Jesus that will love Him and do as He says.  We will be helping these students become deeper disciples of Jesus.
In the next couple months, I will send out another newsletter that will largely focus on the trip, giving more detail and how you can partner with us in prayer and financial support.  We anticipate this being one of our largest undertakings.
IGNITING THE RURAL CHURCH
Our third piece of breaking news is the roll out of an update to our Rural and Small Church Ministry Tour.  We have changed the name to better reflect our focus.  At press time we are still working on developing the logo.  The new name will be . . .
Igniting the Rural Church 2019-2020
Fanning the Flame of Evangelism in Rural America
As an Evangelist my Scriptural calling (Eph. 4:11-12) is two-fold.  1)  To do the work of an evangelist in proclaiming the gospel.  2)  To equip the church for the work of ministry in the area of my gifting.  The mission for Igniting the Rural Church is to strengthen and encourage rural and small churches in their work of evangelism.  I am looking forward to coming along side rural pastors and church leaders to encourage them in their efforts at reaching their communities and world with the gospel of Jesus.
Since the spring newsletter, we finished up our Rural and Small Church Ministry Tour with final stops in Nashua, Iowa and Rogers, Arkansas.
Pastor Dick Kelsey of Rocky Branch Baptist Church, wrote about how God used the Ministry Tour in their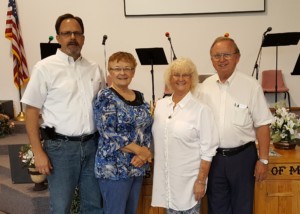 congregation, "His messages had a great impact on our folks. We are a small and growing rural church where Clint's focus on staying true to the work and reaching out to our community struck home with our people."  (Pictured: R-Dick and Doris Kelsey)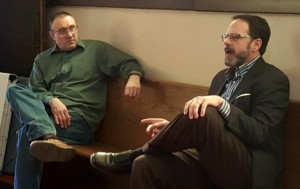 Pastor Dennis Bachman of Nashua Community Church, wrote a strong recommendation of the Ministry Tour saying, "Clint has been a great support and partner to our congregation and we regularly schedule him to visit our church on his tour. The teaching and equipping session will spark conversation and cause you to evaluate everything you do as a church and view it through the lens of evangelism. The Sunday morning message will inspire and encourage everyone in your congregation to be active participants in the work of evangelism."  (Pictured: Dennis Bachman)
Praise God for all the work He has had done in the last year, enabling us to minister among many rural churches.
"I ENJOY YOUR WRITING.  I THINK IT'S VERY POWERFUL."
I am humbled and amazed at how God continues to use my Hope for Today column since I started writing in 2006.
I received an encouraging email from Roger, "I was at the barber shop . . . this morning.  While waiting, I grabbed a paper . . . and started reading.  I came across this article about Father's Day.  As I read it, I was finding myself in full agreement with the piece – something quite unusual for me.  It made me do a double-take, back to the front page to see who wrote it.  You did!  Great to see your column in a barber shop!"
We also received wonderful comments from the newspapers that run my column.
The Walsh County Record (North Dakota) made a striking comment about a controversial topic I wrote on, "Although I don't always agree with Clint's point of view, particularly the recent column about homosexuality, I appreciated the note at the top of the column with the choice not to publish the column. Ultimately, I printed the column, because it was just one person's point of view, and although it wasn't my own, I appreciate writing about tough topics."
The East Texas Press wrote, "[We are] very happy with Mr. Decker's column . . . Thank you for sending it."
The Castro County News (Texas) said, "Our readers enjoy his column."The Akron-News Reporter (Colorado) stated about the column, "We love them and use it as we have room. Thank you."
The Dickey County Leader (North Dakota) said they get encouraging words from readers, "We run your column each month and receive a lot of favorable comments – everyone likes it!"
The Abilene Reflector-Chronicle (Kansas) emailed, "I enjoy your writing. I think it's very powerful."
The Sapulpa Herald News (Oklahoma) wrote, "We look forward to the start of each month and receiving Mr. Decker's column. Writing religion-based columns is a difficult trick as one cannot please everyone.  I think the columns are well written and squarely based on Christian doctrine. I appreciate the submissions and advise y'all to keep on keeping on."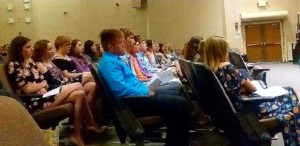 GUEST SPEAKER FOR BACCALAUREATE
In May, I was privileged to be the featured speaker at our local high school's baccalaureate.  A week prior, Jayson Brinkeroff, a 16-year old student, committed suicide.  It rocked the school.  I prayed and worked hard on the message, believing God could use His gospel to bring hope and healing to the graduating seniors and others.  People were praying as I preached on John 3:16 and God provided an amazing response from students and adults.  Praise God for the power and perfect timing of His precious Word.
FIRES AND FLOODS
As I come to a close, I must give a special thanks to all those who helped donate $1,000 toward purchasing gift cards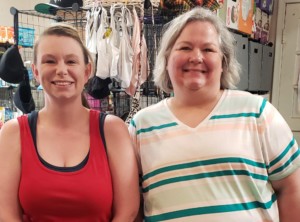 for survivors of the Paradise, California, wildfires in the fall and of the survivors of the Nebraska floods in March.  We mailed some gift cards to Bayside Church in California that distributed them.  Then we personally delivered other gift cards to The Dragon's Closet in Gretna, Nebraska, that distributed those.  (Pictured: L-Rachel Eastman, founder of the Closet; R-Tonia Hedman, Admin Assistant)
Thank you for taking time to read.  My prayer is that you have been encouraged and pointed to Jesus.
Slave of Christ,
Clint Decker
President & Evangelist
Great Awakenings, Inc
[/fusion_text][/fusion_builder_column][/fusion_builder_row][/fusion_builder_container]