Between April 13-20 we are seeking to raise additional funds and send them to the Manna Bible Institute in Kenya to help with the financial impact they are experiencing due to the corona virus in their country.  Click here to donate
Updated 4/17:  On April 17, I was scheduled to fly to Kenya for a ministry trip of teaching African evangelists and holding various evangelistic outreaches in partnership with Manna Bible Institute (MBI) and School of Missions.  Due to the worldwide corona virus pandemic the trip has been cancelled.
Shortly before the travel restrictions took place, Great Awakenings raised money for the teaching and outreach then wired the funds to an MBI Account.  Pastor George, Principal of the Institute, and I agreed to hold onto the money until we could reschedule the trip.
That plan changed.  Due to the restrictions by governments all over the world, many local churches and ministries are hurting financially.  That includes MBI in Kenya.
I asked about their financial position, then shared the information with our board, and we unanimously agreed to release the money to MBI in order to help with their current financial needs.  We believed the funds raised were not ours or MBI's, but they were the Lord God's, and we sensed He wanted those dollars to be spent on MBI's urgent needs.  We also believed our supporters would be in agreement with us.
They have a number of staff that are unable to be paid, along with several volunteers that are paid a small monthly stipend.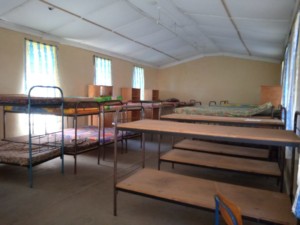 They have regular monthly bills that are unable to be paid.
They need to make immediate repairs to their bathrooms and showers to comply with the local Management Authority. Making these repairs will also put them in a better position for outreach in case they would be used as a potential testing/isolation center.
The school is located on Ongata Rongai, where the first cases of the virus were confirmed, which has been the hardest hit by government restrictions.
Additionally, MBI's desire is to minister to the people in their community along with the pastors and evangelists they have trained over the years.
They have told me, "We want our doors to remain open to minister in any way we can." (Picture: empty dorm rooms with no classes or conferences being held at MBI)
Last week we contacted MBI with our decision to use the funds for their current needs.  Pastor George wrote to us saying,
"As I read your email, I stood up and thanked the Lord for His Grace, His Mercy and this financial provision/miracle.
On behalf of the board of Manna Bible Institute, the teaching staff, the other staff members and the Manna students, we are sincerely grateful for your understanding, and you and your board members for supporting Manna at this time of need."
The need is urgent so we are setting a deadline.  We are seeking to raise additional funds for MBI between April 13 and April 20.  Please send in a gift and designate it for Kenya.  Then on April 21 we will wire those funds and be put to immediate use.
I realize many who are reading this are in a difficult financial situation themselves due to the pandemic, and other churches, ministries and businesses have great need.  We also understand other organizations may be seeking support for concerns of their own.  If you are able, according to the Spirit's leading, we would love for you to join with us in helping our brothers and sisters in Kenya.  You can give through our website or mail in a gift today.
I have no firm answers in what all this means for a future trip for myself.  It is all in God's hands, but one thing I know right now, is they need our financial partnership quickly.
Jesus said to "You shall love your neighbor as yourself." (Matt. 22:39).  If any of us had a financial need we would be greatly blessed if someone came to our aide.
Clint Decker
President
Great Awakenings, Inc