Today, we are officially rolling out the 2020 Igniting The Rural Church program.  This is our second season and the program has been renamed and given a sharper focus toward the purpose of strengthening and encouraging the vital rural church.
God used the first season of the program to impact churches in Kansas, Nebraska, Iowa and Arkansas.  Here are what two pastors had to say . . .
"Clint's messages had great impact on our folks. We are a small and growing rural church where his focus on staying true to the work and reaching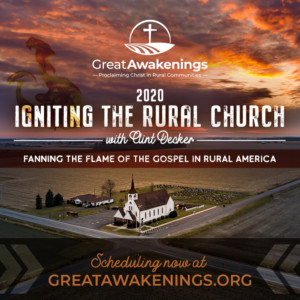 out to our community struck home with our people."
Pastor Dick Kelsey
Rocky Branch Baptist Church
Rogers, AR
"Clint's challenge was to discover 'how is the gospel affecting who we are?'  I will be challenging our church on a regular basis to make this focus a priority.  But just as important–I am challenging myself with the same message. I can tell you . . . following Clint's visit, it has change who I am."
Pastor Dirk Westerman
Milford Congregational Church
Milford, KS
We are praying and looking forward to a second season impacting even more churches to the glory of God.
Jesus said, "Go into all the world and proclaim the gospel to the whole creation" (Mk. 16:15).  All the world and the whole creation includes–small and rural towns.  And the gospel, it is good news for the lost, but also, is the foundation for everything a follower of Christ believes and lives.
To learn more and how you can schedule a program for your rural church, click on the 2020 Igniting The Rural Church image.